Today – Clocks from Tesco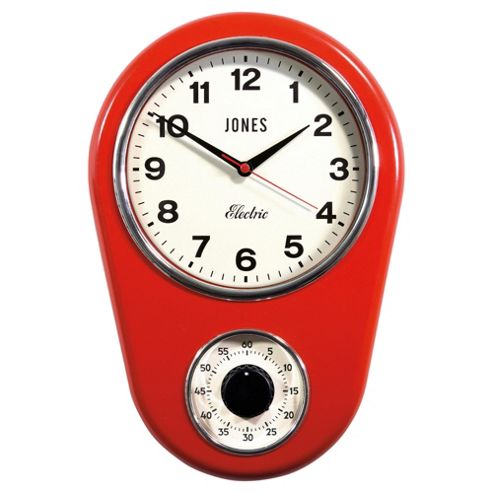 Clocks from Tesco
On March 30th the clocks go back and we gain an hour and daylight once more fills our evenings.
How wonderful.
It felt so timely to be asked to review this gorgeous clock from Tesco Direct. (sorry I know that was an awful pun!)
The Jones & Co clock is very useful in so many ways. Firstly, it is extremely clear with a clock face that is easy for my children to read. which is really important whilst they are trying to master this skill. Secondly it has a timer on it. So useful if I am cooking a meal or making cakes. I get so easily distracted by this and that and a little alarm ringing to tell me its time to check the muffins is a VERY good thing.
I also love the colour and style of this clock, its is bright and cheerful which is perfect for Spring and it has a cute retro look.
I think £20 for a functional, lovely looking clock that really cheers up my kitchen is great value.
There is a range of lovely clocks at Tesco Direct do you want to see a few more?
Tesco Clocks
Budget and brilliant
Clocks form Tesco really a good budget way to change the look of your kitchen. I always feel you really do not need to spend a great deal to make a real impact you just have to be creative and think outsdie of the box
More than Tesco Clocks
If you would like to see more ways to update your home with accessories you may like to check out my post on stylish blinds from Couture Living and I have idas here for a kids bedroom makoever
Save