It is a long time since I have done a round up of my favourite blog posts from the past week. A lovely weekly endeavor I share with my tuesday treat blogging friends Ruth Chris and Lizzie. We have been rather remiss lately but lovely Ruth has singlehandedly kept us on track and now I am back on board ready to have my say too!
This week I am doing it rather differently though..I all about linkys at the moment.
There are only a few I join in with but I do love the ones I do, and wanted to have the chance to tell you about them.
My very favorite linky is Mammasaurus's How Does your Garden Grow and least week saw her celebrate her 50th week of running this lovely linky. It attracts many bloggers to leave links to their gardening posts. In fact the linky brings together a whole community of garden lovers sharing their garden tales and it's all rather gorgeous. It is the most lovely linky full of posts heavy with photos, fragrant, floral and earthy. Everyone visits each other and comments away and it really is a happy flowery place to be. One of the highlight of my Thursdays.
I also love Tara Cain's The Gallery. Tara is a very chilled out kind of lady and she makes very few demands of her linkers. she simply suggests a theme and away you go really snapping a photo or recovering one that fits the theme. This week the theme is 'Happy' and it is week 184 of The Gallery which remains as popular as ever. I like that you can write about your photo and share the story behind it (I am a woman who loves words) The Gallery takes place every Wednesday.
On Monday's my lovely pal Liz (a sister tuesday treater) has a wonderful thrifty linky I often join in with. Magpie Monday encourages bloggers to share their second hand finds and it is a delight and a great source of inspiration. Car boots, charity shops flea markets and garage sales are all explored and treasures found and displayed on this lovely community linky of like minded thrifters.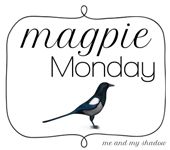 Two much newer linkys now, both of which really appeal to me . First up over at the Reading Residence is Jocelyn's Word of the Week. This is a fab linky where basically you find a word to sum up your week and blog about it. I love reflecting on themes in my life and I just love words and what they can convey. This is an extremely popular linky considering it hasn't been round very long at all. I think the fact that bloggers are writers mean writing about words sits well with them. It's lots of fun and pulls together a real mixed bag of blog posts. This linky takes place on a Friday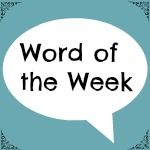 Last but by no means least my dear friend Jen from Love Chic Living a
UK Interiors blog
has very recently launched a Love Your Home linky. Despite being an interiors blogger Jens' not the fancy pants unattatinable interiors type. She is all about real, lovely homes that are as individual as you are. The linky is full of people celebrating what they love about their home. It has given me lots of inspiring ideas. I just love it. It takes place on a Thursday.
So five very different linkys that have introduced me to many lovely new blogs and filled me with ideas.
Which linky's do you love best?