Have a look at this spa range …
Tiddley Pom is a baby spa range that aims to strengthen the bond between mother and babythrough the use of baby massage and music. The three music CD's in the range were recorded by Fridrik Karlsson ( who also works on the xfactor!) the baby massage oil has been developed by an expert in aromatherapy and an instructional DVD has been compiled by an infant massage,
Each of the three CDs have been created especially for different aspects of caring for your baby:
Baby Massage Music
When the art of massage, the calming scent of Tiddley Pom essential oils and the beautiful music of Icelandic composer and guitarist, Fridrik Karlsson are all brought together, a feeling of well being is assured. These four tracks create the ideal ambience for a mother to bond with her baby, the music perfectly complementing the small soft movements of massage.
Baby Night Time CD
Icelandic composer and guitarist, Fridrik Karlsson has created three soundtracks with guitar chords and percussive wind chimes that lilt like a lullaby. Set the lighting low, stroke your baby on the hand or head, and let the worries of the day melt away as your child drifts off into the land of nod. Ideal for mother and baby to listen to together and de-stress after a busy day. Duration of one hour
Baby Cuddles CD
Six soothing tracks by Icelandic composer and guitarist, Fridrik Karlsson, are designed to calm the most ragged nerves. In our busy lives, it's important to find time to enjoy our children; the gentle rhythms of Karlsson's music help create such a moment. Guitar chords and the percussive sounds of a wind chime are pitched at just the right level to suit a baby's hearing. This collection makes a perfect accompaniment to nursing a baby in one's arms or on the knee after an upset, swaying in time to the relaxed tempo of the music. Duration of one hour.
Don't these look wonderful!
And this fabulous dvd is perfect for learning baby massage
Baby massage and aromatherapy DVD
Presented by Jo Kellett, a member of The international Federation of Professional Aromatherapists and a Certified Infant Massage Instructor. This DVD will guide you through the essentials of baby massage, enhancing the bonding process, bringing a sense of calm and relaxation for both you and your baby.
Films:
Abdominal Massage.
Common Ailments.
Legs and Feet.
Playtime.
Relaxation.
Of course you would need the oil too!
The organic baby massage oil is a treat for baby, mum and dad too! It is fragrance-free, containing kukui, coconut, blackcurrant and argan oils.
In a convenient spray bottle, Tiddley Pom's Organic Massage Oil is ideal for body and face.
This blend of natural vegetable carrier oils imparts a host of naturally derived vitamins including gamma linoleic acid, omega 6 and other fatty acids essential for healthy skin.
Size: 150ml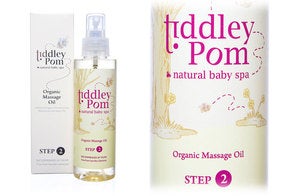 Competition
If you would like to win this gorgeous range of treats worth over £53 simply tell me your favourite piece of relaxing music.
T&C
UK and ireland entries only please, 1 entry per prerson. Comp closes 16/12 Winner wil lbe picked at random.