Washable pillows and duvets
Slumberdown, have launched a brand new range of pillows and duvets that are 'truly washable'.
They say that that:
Unlike many other products that make the same claim the pillows and duvets will maintain their shape, comfort and texture after multiple washes.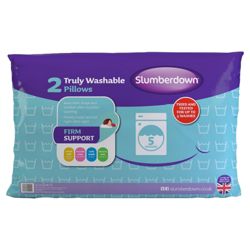 I have to say I have washed pillows and duvets before and they have always come out a luttle lumper and bumpier than when they went in and never quite retained their shape. With kids, accidents and soils happen. I've accidentally tipped tea over my duvet and one of my kids was sick all over it once. Oh how I wish we hadn't had to wash it. It was so uncomfortable afterwards.
The Truly Washable pillows and duvets have been rigorously tried and tested for five washes. They look and feel just as good after five washes as they do before the first.
They are lovely and comfy and did indeed wash perfectly when we had a go. They are machine washable at 40° and can also be put in the tumble dryer. How absolutely fabulously practical is that!
Every parent needs these!
The Slumberdown Truly Washable pillows are available from Argos and currently cost £11.24 for two. The duvets are also avaible from Argos at£15 for a 10.5 tog single duvet, £20 for a double and £25 for a King Size.
Save
Save