My children have had a little plastic playhouse for a long time. Both of them are now a bit too big for it and instead1 of playng in it they store things in there. They longed for a proper playhouse a place thet thy could both go to – a little space of their own but not so 'babyish' and small. I thought I would be looking at about £700-£1000 to get a tree house or anything resembling what they wanted and to be honest when I started researching I did find a lot of VERY expensive childrens playhouses.
But I also found this site: Garden Buildings Direct. A friend of mine had bought a home office from them and I was intrigued as lots of their ads said they were very reasonable. Indeed Garden Buildings Direct do have a huge range of wooden playhouses within a really good price bracket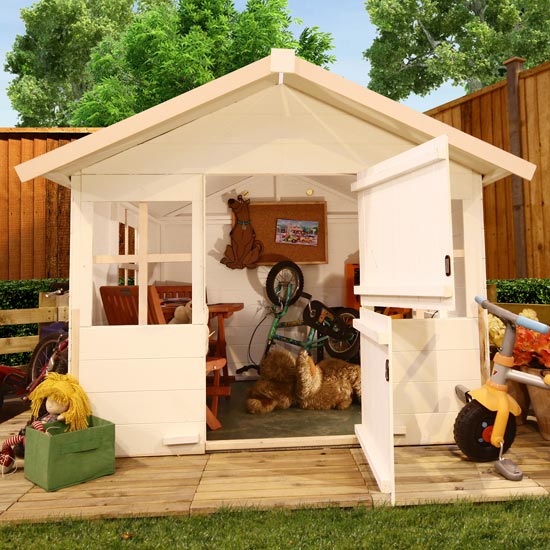 Mad Dash Lollipop Junior Wooden Playhouse Including Floor £189
Mad Dash Peardrop Junior Two Storey Wooden Playhouse Including Floor £289.90
We settled on this one…..
Mad Dash Lollipop Junior Tower Wooden Playhouse Including Floor £269.90
I've just made a video log of the kids playing in it which I will edit and show you next week. But they love it, they absolutely love it. The house is very quiet!
I think the prices are great! Obviously at that price you are looking at self assembly and we paid to have ours put together ( we are not a 'handy' family!) But nevertheless excellent value and a really good looking sturdy playhouse.
Garden Buildings Direct sell far more than playhouses; they sell log cabins, sheds, summer houses, green houses and workshops. Shall I show you my fantasy garden workshop ?
How lovely – I can just imagine it with a little desk and pc, a big vase of flowers, some journals and a mini firdge I would need a bigger garden and it would set me back £699 but oh it ould be divine!
This is a lovely store with a wide variety of garden buildings to suit a range of budgets.
Garden Buildings Direct Reviews are excellent and well worth checking out.
Garden Buildings Direct provided me with thie playhouse for the purpose of review.