Raindrops on roses and whiskers on kittens
brown copper kettles and warm woollen mittens
silver white winters that melt into spring
these are a few of my favourite things…..
If my children are sad or worried and have got 'stuck' feeling down I often quote Julie Andrews at them and have them tell me there most favourite things. Thinking about what makes us happy often helps change a mood.
With this in mind I spent the grand total of £2 really cheering myself up last week.
I strode into my local charity shop determind to treat myself and treat myself I did. There is a whole host of things in life that make me happy but I wanted pleasures to get lost in not a quick magazine, good coffee or bar of chocolate. No I wanted music.
There's little I prefer to listen to than Swing music it is a real indulgence o me. It may not be very 'cool' but it reminds me of my daddy, my childhood and old films and it makes me smile.
This cd has Jamie Cullum singing 'I get a kick out of you,' Dean Martin singing 'Amore' and Nat King Cole singing 'Let's face the music and dance' plus many more old familiar and comforting records that I know every word too. Lovely . Listening to this Cd is like having hot buttered toast and a cup of tea after a walk on a freezing cold day. It soothes me . It cost me just £1 and cheered me up no end and probably will do again many, many times.
And then , because there is little as comforting as a great piece of chick lit I purchased the only Sophie Kinsella book I haven't read. For the grand old price of another £1.
It's twinkling at me and I have promised myself that the very next sunny day me and my new book have a date in the garden whilst the kids are at school. A whole school day to ourselves.
I smile each time I look at it. A little treat waiting for me.
You are worth it
It's amazing how treating yourself to something you truly love that will give extended pleasure (not just momentary) can really pep you up. It's a way of taking care of yourself and you need to. Our wants and needs and likes must not get lost as we become parents. You don't have to spend much.
What are your favourite things?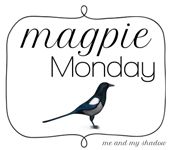 I hope you enjoyed my Magpie Monday posts. You can see more of my money posts here and over at Serious Saver