Today you can be part of making a million miracles happen and it's just so simple really
A Million Miracles
The problem.
Cataract – a clouding of the eye lens which is the no.1 cause of blindness in the world. It lead to permanent eyesight loss if untreated. Not just a problem of old age in developing countries it affects many many children too. Due to money and lack of knowledge and services millions of people are blind needlessly.
The solution.
It costs just £30 to cure and adult and £50 to cure a child. That is it.
The plan
SightSavers are planning to raise 30,million by 2017 to fund 1 million sight restoring surgeries. To regain sight must be the most miraculous thing.  They need our help.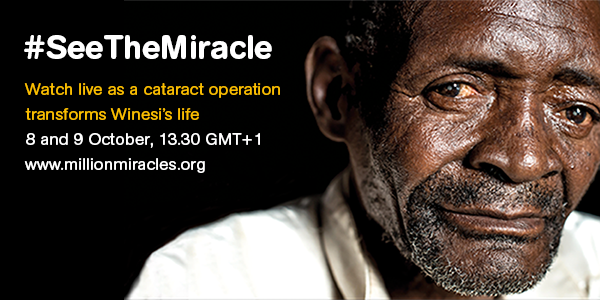 To raise awareness SightSavers are going to share the journey of a man called Winesi who has been blind now for 2 years. he has never seen his grandson. How sad is that. Live from a google hangout on October 8th we are going to witness his journey before during and after surgery ( I have had a similar procedure it's not gory) The next day we will witness Winesi's bandages come off and his sight being restored. Wow. What a day that will be.
How can you help A Million Miracles

By sharing this journey on social media you will raise both awareness and impact fundraising. Please do share and follow this story and if you can afford it please give £30 to create 1 more miracle and to completely absolutely change a life.  You can lick here to donate… Million Miracles
Follow them on twitter @SightSavers #SeetheMiracle
Please do join in with A Million Miracles and take a look at A million miracles in action here