I do love to share a fabulous post! and this si my post of the wee ….
How to Celebrate Earth day
I have already written about the importance of earth day and I have found a great post packed with ideas on ways to play through Earth Day. It is definately my: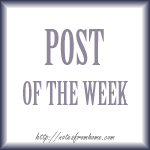 I would love you to read this post Ideas to Celebrate Earth Day which is over on the Nurture Store blog, It has tops tips under the headings reduce, reuse and recycle. Here are a couple of my favourites but you must pop over and read the post!
You can promote 'going green' in your children's pretend play too. I love it when my girls are playing shops and I hear them saying 'I don't need a plastic bag thank you, I've brought my own'.
How about re-purposing items around the house and garden for your children to play with? My girls love playing with clothes pegs, shoe boxes, fircones, pebbles and other un-toys… Zero airmiles, zero packaging, free and full of opportunities for creative play.
NurtureStore is a blog that is passionate about play and early learning and using creativity and present materials rather having to buy, buy, buy.
Cathy James who writes the blog is an 'outstanding' rated childminder passionate about giving children the best start in life. You can find lots of ideas at Nurture store that you can use with your children in your home – things which are fun, easy to do, cost little or nothing and help children develop and learn.
Have a look around the site to find ideas for making, baking, counting, singing, getting out and about, celebrating festivals, sensory play and lots more. Their Play Academy carnival runs every Friday and brings you great play ideas from around the web – why not join in and share your ideas too?
Being part of a resourceful community is one of the best ways to get budget ideas.